I love US football. It wasn't a natural "fall in love" type of relationship though. It was learned. I grew up listening to my father scream obscenities when the Philadelphia Eagles missed a play. And now the entire family must endure when my husband goes nuts if the Pittsburgh Steelers lose a game they were "supposed" to win. I feel completely surrounded by the men in my life who matter and their passion for the game. So…if you can't beat 'em, join 'em, right? I decided to take my love of learning and apply it to the rules of football and guess what, I started to fall for the game too. Of course that doesn't mean I don't appreciate a hot looking player, and that's what you get with my Nighthawk football romance. Hot guys, high heat romance, and a good dose of football.
Each novel is a standalone romance and the first one, SAINT (previously titled Gunslinger), is on sale at $2.99 for the holiday at all retailers. Enjoy! *Side note: I am hosting a Book Club Trivia Contest via my VIP list and Reader group and this is the first book you will be quizzed on during the month of December to win prizes! Woohoo!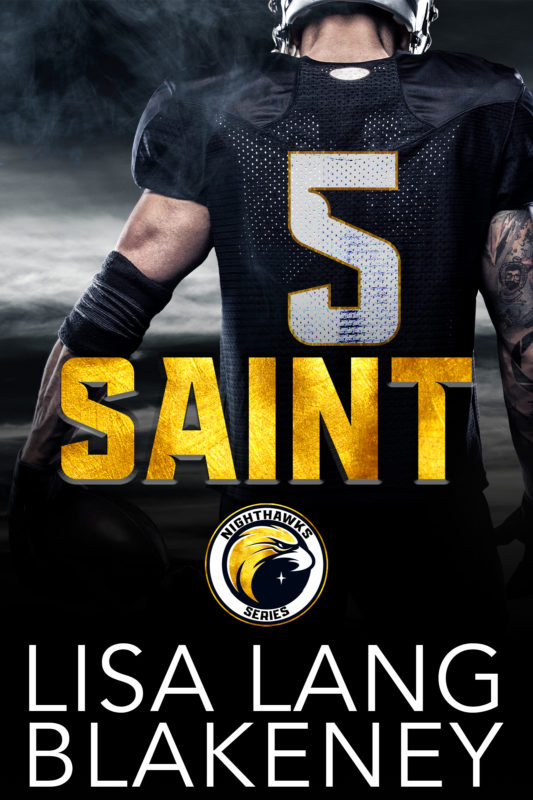 Saint
eBook:
$2.99
Audiobook:
$9.79
"A one-click, damn he's funny, enemies-to-lovers romance and sexy love story with the hottest quarterback in the NFL."
About the Book
A one-click, damn he's funny, enemies-to-lovers romance and sexy love story with the hottest quarterback in the NFL. From bestselling author, Lisa Lang Blakeney, comes a new enemies-to-lovers, football romance set in the world of professional football. "In front of me, you can do anything. Say anything. Don't hide from me. Ever." -Saint Stevenson I hate sports and he is football royalty. I like quiet and predictable, but he's sex and swagger personified. I didn't particularly care for Saint Stevenson the first moment I laid eyes on him. But his warped brain seemed to process our initial meeting as foreplay. I don't care that he's filthy rich. Or that I can't stop staring at him. Or that I need to remember to breathe when he's in my presence. He is nothing but a distraction. From my five-year master plan. That's why I'm going to hate every minute of this. Right? The Nighthawk Series: Saint Wolf Diesel Jett Rush
Endorsements
"Great story! Loved his persistence."
– Amazon Reviewer
Other Books in "Nighthawk Series"
Disclosure of Material Connection: Some of the links in the page above are "affiliate links." This means if you click on the link and purchase the item, I will receive an affiliate commission. I am disclosing this in accordance with the Federal Trade Commission's
16 CFR, Part 255
: "Guides Concerning the Use of Endorsements and Testimonials in Advertising."